Nepal is closer than Shimla or Mussoorie for Delhiites. This was the reason all of a sudden I 'planned' this ride to Nepal. Not many of us here have been there, so this ride was just to explore this country. Here comes the log of my debut ride to any 'foreign' country.

21 jan to 26 jan 2009

21 jan
Delhi - Moradabad
Distace - 160 kms
Time - 3 hours
road condition - bad


22 jan
Moradabad - Bardiya national park (Nepal)
via - Banbasa (Tanakpur, Uttarakhand) - Mahendranagar (Nepal) - Suklaphanta national park
Distace - 316 kms
Time - 11 hours (relaxed ride)
road condition - good from Rudrapur, very good as you enter Nepal



23 jan
Bardia national park - Butwal
via - Kohalpur
Distace - 291 kms
Time - 6.30 hours
road condtion - very good


24 jan
Butwal - POKHRA
Distace - 152 kms
Time - 5.30 hours
road condtion - average


25 jan
Pokhra - Sunouli border (India)
via Sarangkot - Pokhra - Vishwa shanti stupa - Butwal - Bhairawa
Distace - 231 kms
Time - 12.30 hours (includes sight seeing at Sarangkot & stupa)
road condtion - average



26 jan
Sunouli border - Delhi
via Gorakhpur - Ayodhya (Faizabad) - Lucknow - Sitapur - Rampur - Moradabad - Delhi
Distace - 900 kms
Time - 23 hours continous (my longest ride in one day till date)
road condtion - very good TO very bad

Total distance travelled - 2085 kms


map showing the route taken during the 6 days ride to Nepal from Delhi

22 JANUARY 2009

Nepal's nearest border from New Delhi is Banbasa (300 kms approx) which is just before Tanakpur in Uttarakhand.  Some stretches on the highway in Uttar Pradesh were pathetic but changed dramatically as I entered Uttarakhand. It takes 7-8 hours to reach Banbasa from Delhi. I reached Moradabad last day, i.e. 21st January. It takes 3 hours from Delhi(150kms). Left Moradabad at around 0730hrs and reached border at 1230hrs. (5 hours, relaxed ride)

Route (Delhi - Banbasa)

Delhi - (NH24) Ghaziabad - Moradabad - Rampur - (NH 87) Rudrapur - Sitarganj - (NH125) Khatima - Banbasa (border road) - Nepal border (Gadda chowki)
Route map - Delhi to Banbasa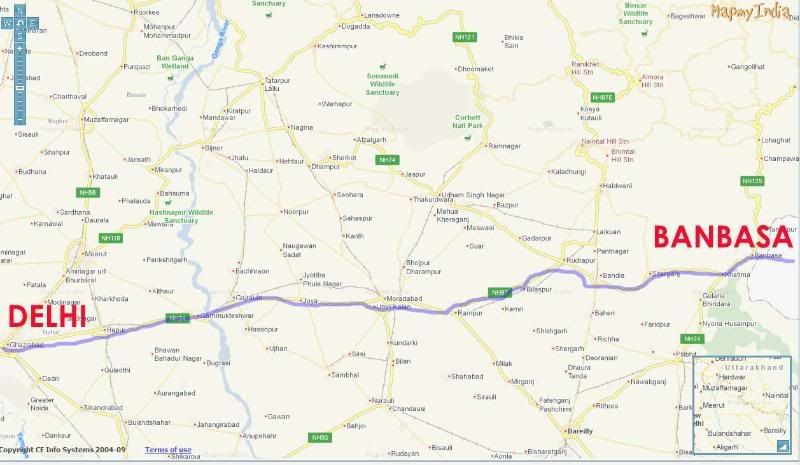 roads in Uttarakhand (after Rudrapur)
near Banbasa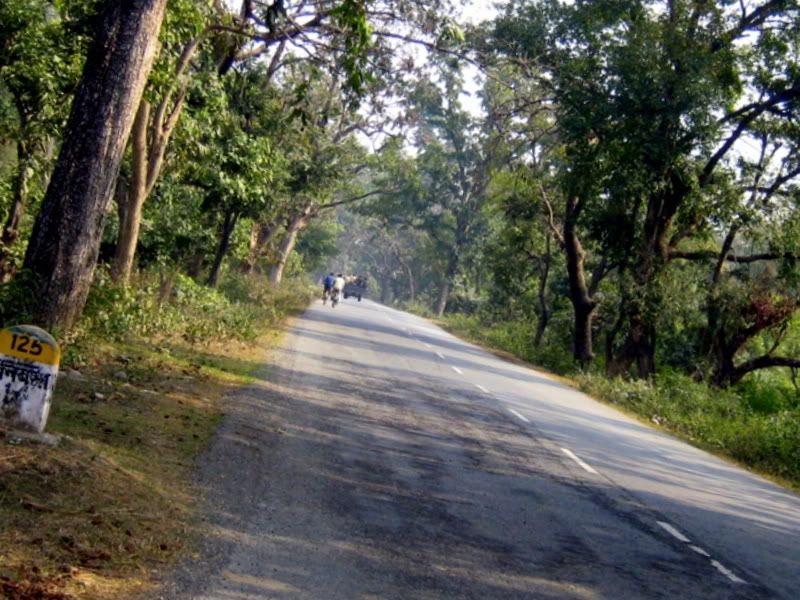 Banbasa - take left for Nepal's border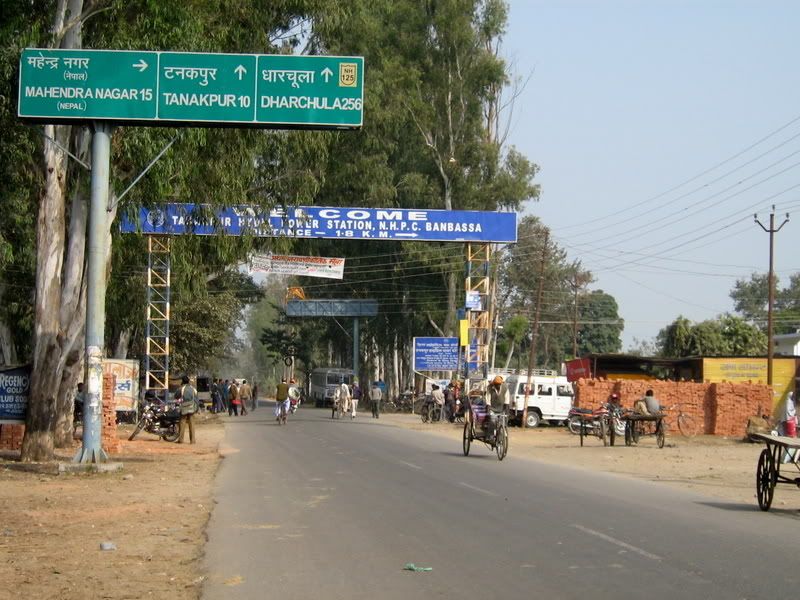 Before the border
Just after taking left from the NH125 towards Nepal's border I spotted bikes with red number plate and numbers in Hindi (Devnagari). Nepalese come to shop here for their daily needs. As the Indo-Nepal border is open people don't have to take permission. Indian check posts were not checking each and every person. I was also not stopped for checking even after having lots of uncommon things like Delhi number plate, uncommon bags on the bike (cramsters) and helmet.
Crossed the border
I kept on moving. My eyes were craving for 'welcome to Nepal board', but after a minute or two I realised that I have already entered in Nepal. I was stopped at a checkpost by the security people in blue uniforms. They were Nepalese policemen. Their uniform color is blue. I was asked to complete some formalities to enter Nepal.
How to enter Nepal
Indian citizens don't have to pay or show anything at the border unless they have their own vehicle like in my case. However, one must have a valid Identity card to confirm your Indian citizenship as police may ask for the I-card. Reach Banbasa by bus or train and catch a Tonga/Rickshaw for the border. Cross the border on foot and catch rickshaw/local bus/transport to reach Mahendra nagar, the next nearest town from the border.
Valid I-cards to enter Nepal
Passport

Voter I-card issued by the Election commission of India

Driving licence

I-card issued by any govt. authority

letter issued by the Nepalese embassy
Bridge near the border at Banbasa : People commute on Tonga/Rickshaw to cross the border.
Formalities at the first check post in Nepal

I was supposed to pay a custom duty for the Indian registered bike. They charge Rs 80 (NC) per day for two wheelers. I wanted to ask duty charges for 4 wheeler and so on, but the Officers sitting there seemed to be adamant, so didn't dare to ask them questions.
Quietly paid them 250 (IC) for 5 days, [i.e. 80x5=400 (NC)]
I was asked to show the RC for bike and I gave them all necessary papers I had.
Money Exchanger
Soon I realised the need of Nepalese currency for such transactions. Police men directed me to a money exchanger just next to the custom office. Got 1600 (NC) in exchange of Rs 1000 (IC). Paid him Rs 10 (IC) as transaction fee, however he refused me to give a transaction receipt for that. Later I came to know that the person was not a govt official.
IC – Indian currency, also known as BHAA ROO, i.e. Bharitya rupya in Hindi.
NC – Nepalese currency
Imp – People in Nepal accept Indian currency except Rs 500 & Rs 1000
Traffic permission
When I was about to start my bike, police wallas again directed me to a booth to get traffic permission. Paid them Rs 50 (NC) and got receipt.
route map from Mahendra nagar to Pokhra 
Mahendra Raajmarg or Highway no. 1
This is the longest (more than 1000 kms) and the most crucial highway for Nepal connecting it from East to West. This highway has been built with the help of India.
Mahendra raajmarg : lifeline of Nepal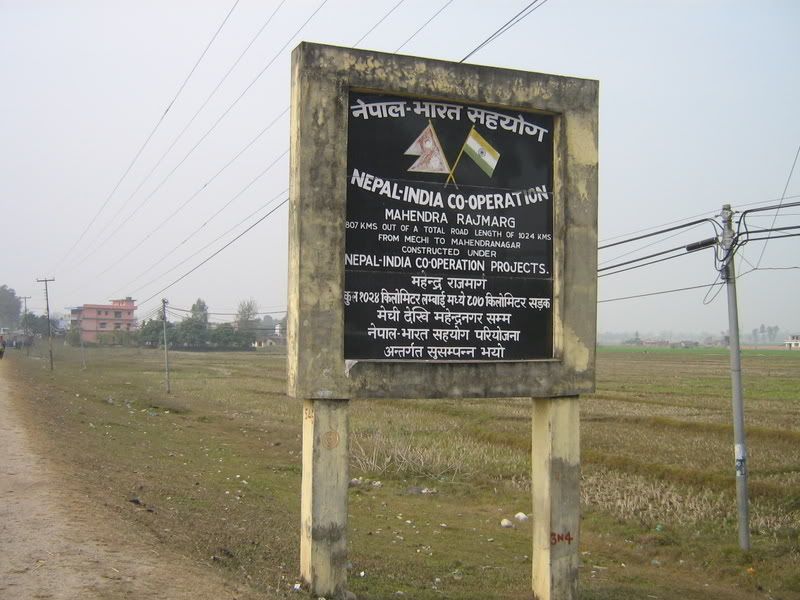 Maximum part of my ride was on this highway. I can say this was one of the best highways I have travelled till now. Somewhat like NH8 or highways connecting Jaipur-Bikaner or Bikaner – Jaisalmer. With little traffic and arrow straight roads I was able to cruise at 80kmph very easily most of the time. Almost 99% of this highway is in the Terai region of Nepal, i.e. the foothills of Himalayas.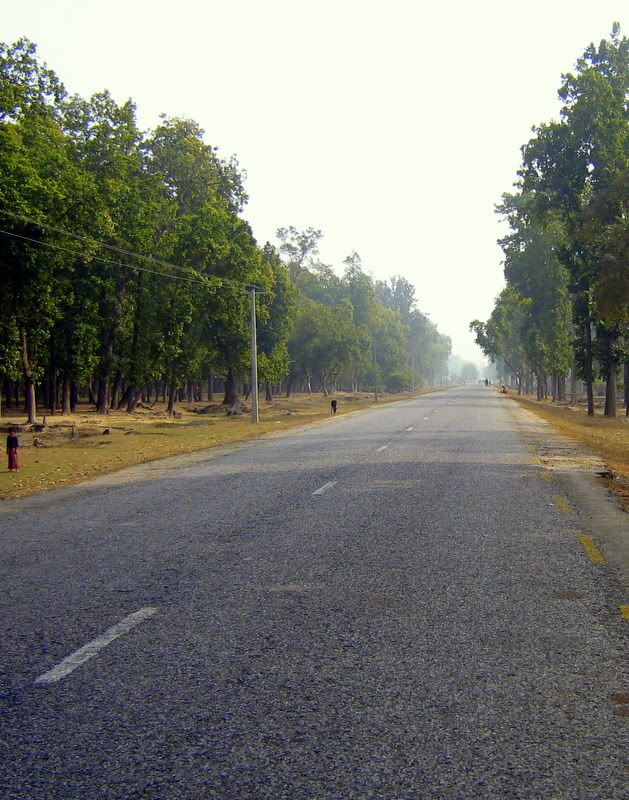 Tall Jungle both the sides, neat and clean hamlets, zero traffic, smooth highway – 'I was feeling like god' :)
hamlets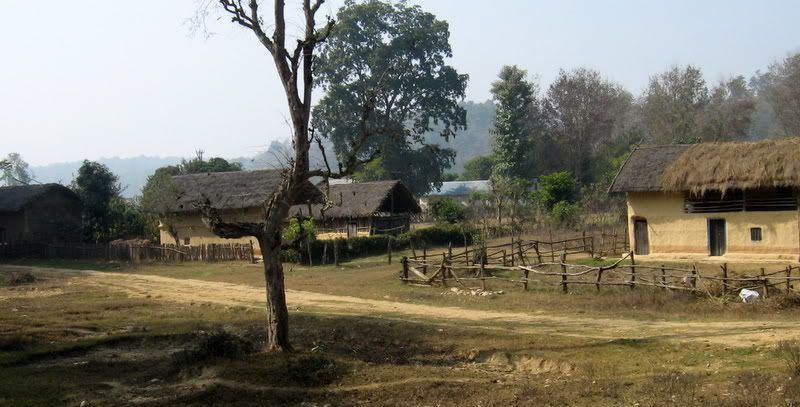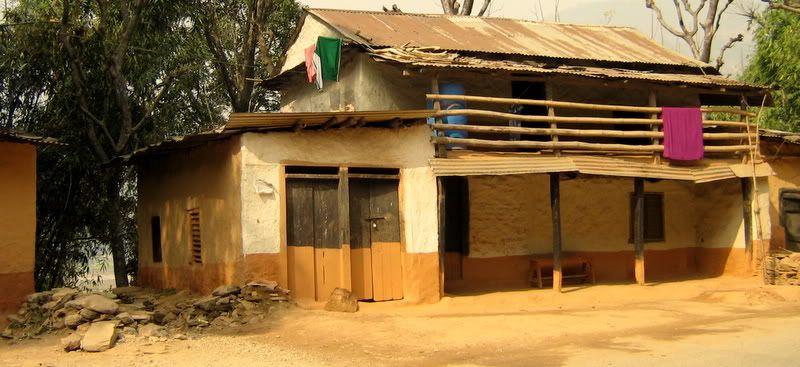 smooth highway
Entering Shuklaphaanta national park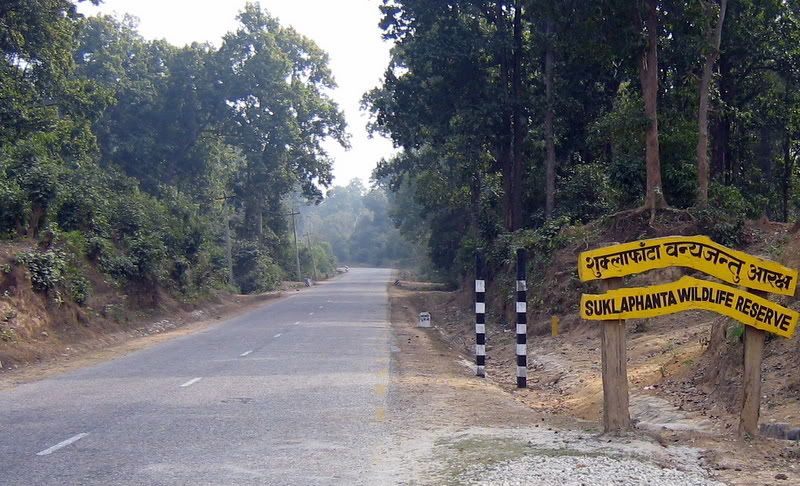 Gadda chowki to Bhuri gaon
Soon after crossing Mahendra nagar and Shuklaphaanta national park I reached Atariya. This is the first junction on this highway for the nearest Indian border. Turn right towards Dhangadhi for the border, left for Darchula, straight for Bhuri gaon.
 I took a halt to tank up petrol and get more NC from a bank. Found a petrol pump on the left side of the junction point. The pump owner came from Rajasthan and settled here. He gave me a rough idea of the highway and nearby places. Then I exchanged more NC from 'The Bank of Kathmandu'. However, even the bank refused to give a receipt but didn't charge anything for the transaction.
This bank is located at stones throw distance from the junction point on the right side of Dhangadhi road.
towards Bhurigaon or Bardia national park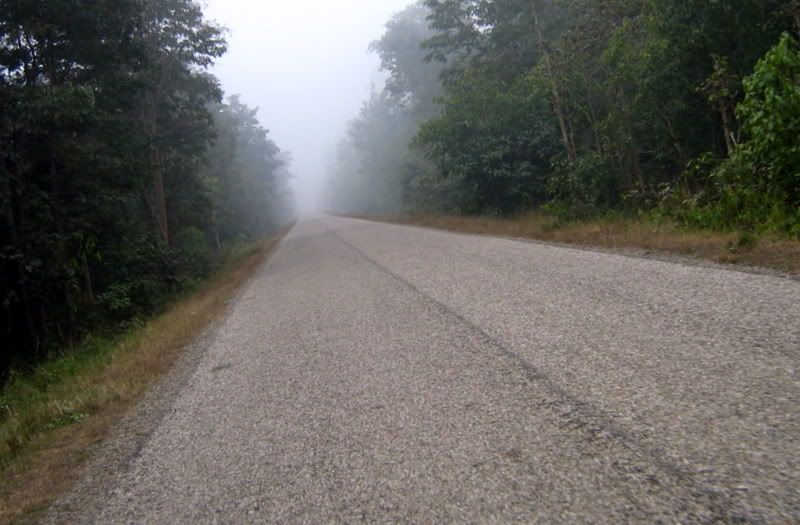 Just after crossing Chisapani (1630hrs), there was a suspension bridge, which is said to be the second highest in Asia of its type. This was the first time I had a glimpse of Himalayas.
suspension bridge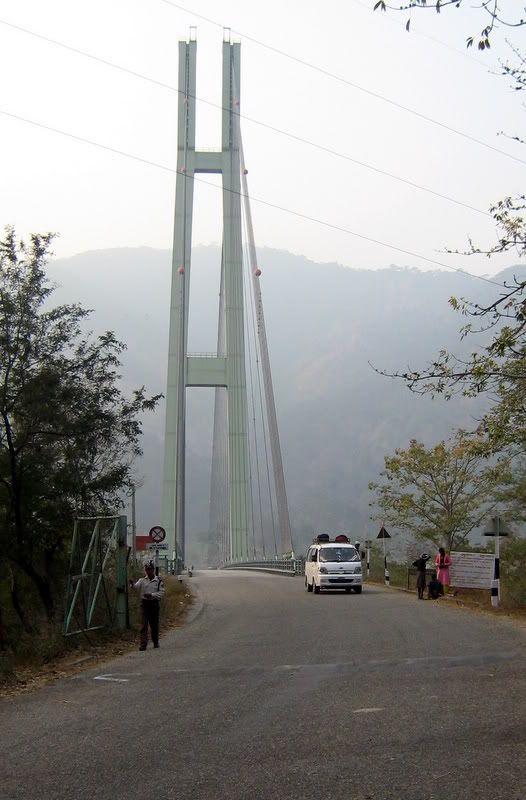 It was 1730hrs and getting dark. I was in Bardiya national park. Asked for accommodation at a check post and came to know about Bhuri gaon, a small village on the way ahead.
Bardiya natioal park

Crucial information NOT in English
Most of the information and milestones are written in Devnagari (Hindi) so Non-Hindi people may find it difficult to read them.
Bhuri gaon – 1st night in Nepal
1st ISD call – mobile not working
Bhuri gaon is one of the village situated in Bardia national park range. Reached here around 1800hrs. Called up home from a local ISD booth and paid Rs 35 for 1 minute. There are 3-4 lodges in this village, only option to stay. I paid Rs 200 for Hotel Waaling.
hotel Waaling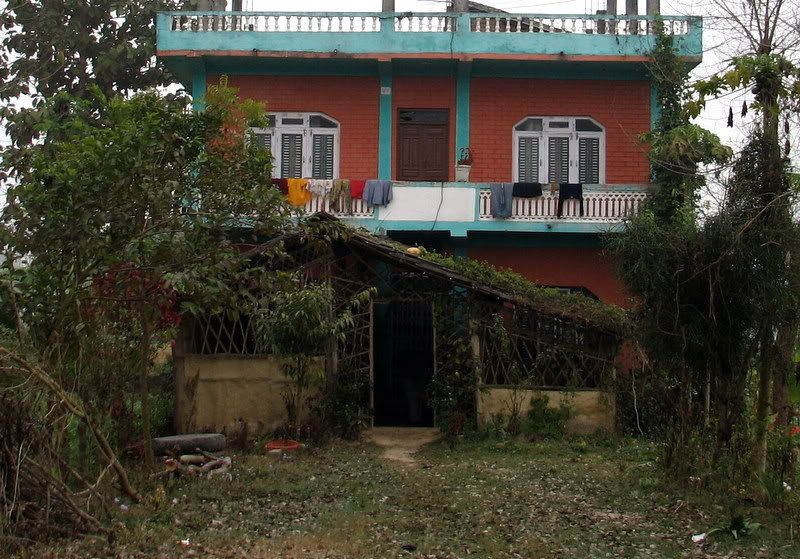 23 JANUARY 2009
Bhuri gaon To Butwal
Today started late at 1100hrs. Next town was Kohalpur, which is 2nd junction point for Indian border. Turn Right for Nepalgunj Indian border, Left for Surkhet, straight for Butwal. 
Sign board at Kohalpur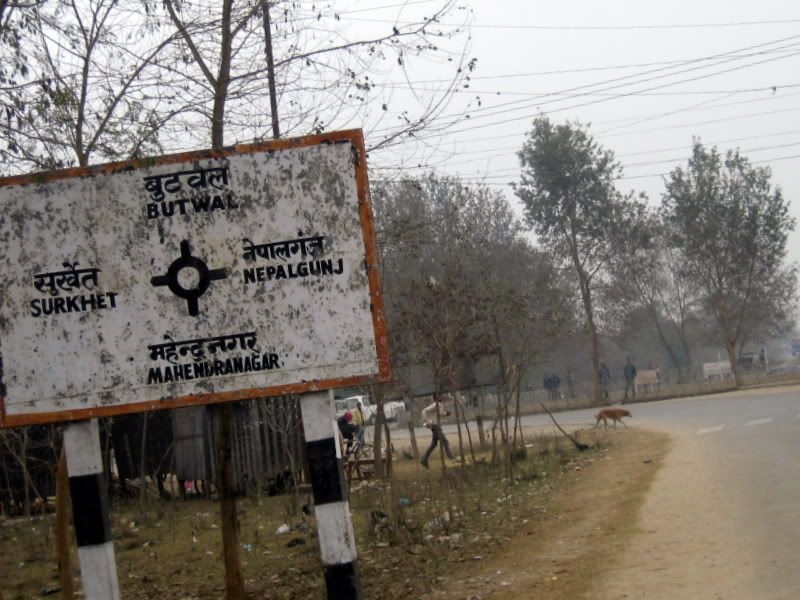 bus on a bridge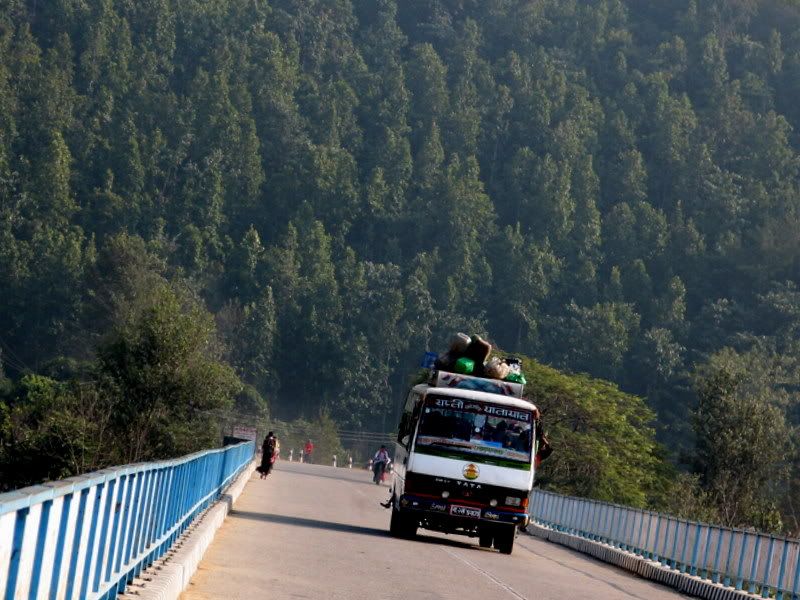 another village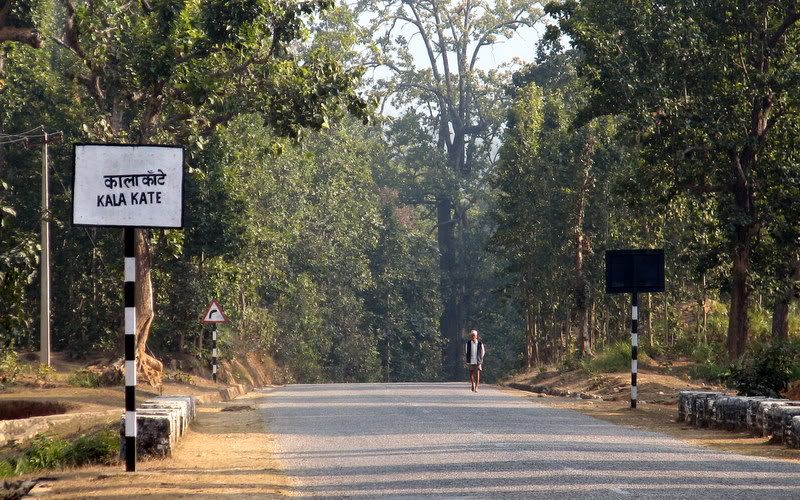 another house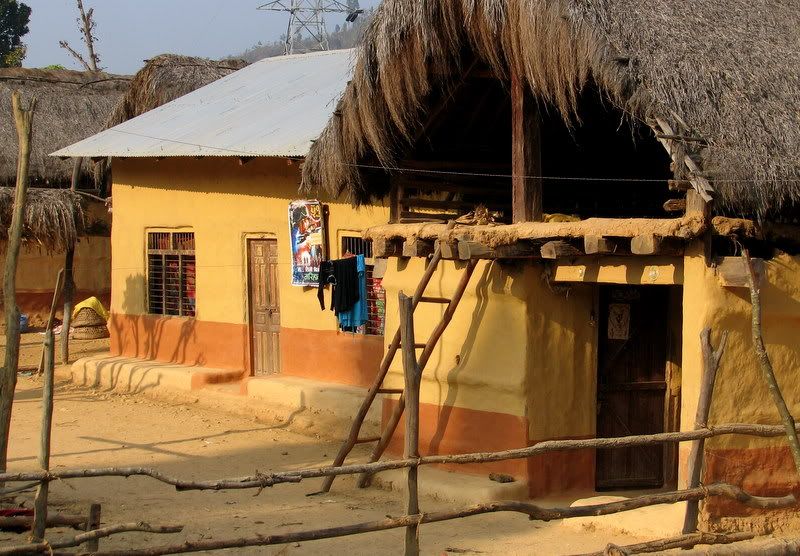 another face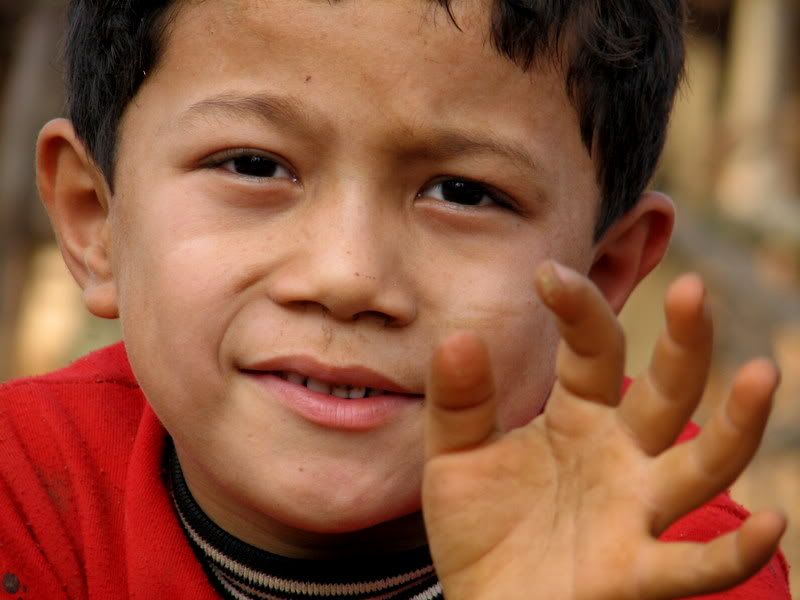 another activity

entering Kapilvastu state of Nepal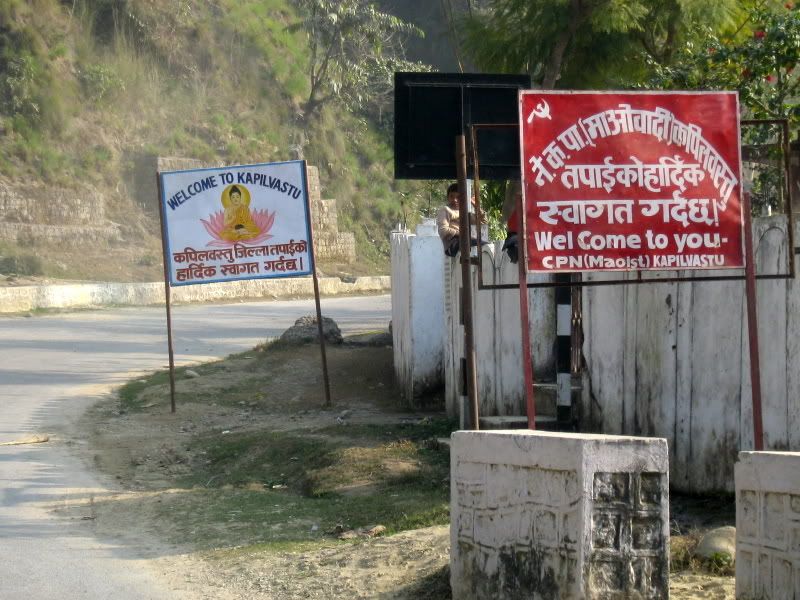 Reached Butwal at 1800hrs. This was the biggest town I saw till now in Nepal. It is again a junction point for Sunouli/Gorakhpur Indian border. Turn Right for border, left for Pokhra. I stayed at Hotel Sindoor for Rs 600. This place has good options of hotels and lodges. Tanked up again. 
24 JANUARY 2009

To Pokhra
My ride in Himalayas started, as I crossed the limits of Butwal. Time was around 0930hrs. Road beyond Butwal is ok. Nothing much to click. 
Butwal to Pokhra is Via PALPA -  another tourist attraction
the serenity of few houses attracted me a lot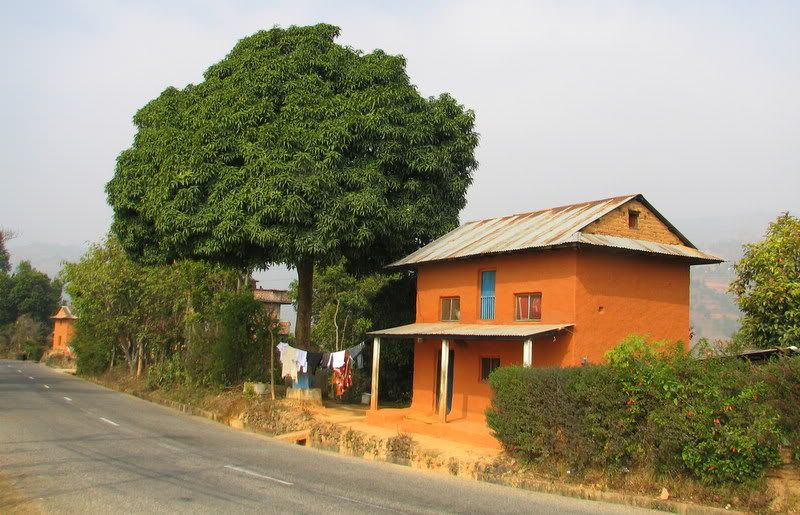 bridge 
a temple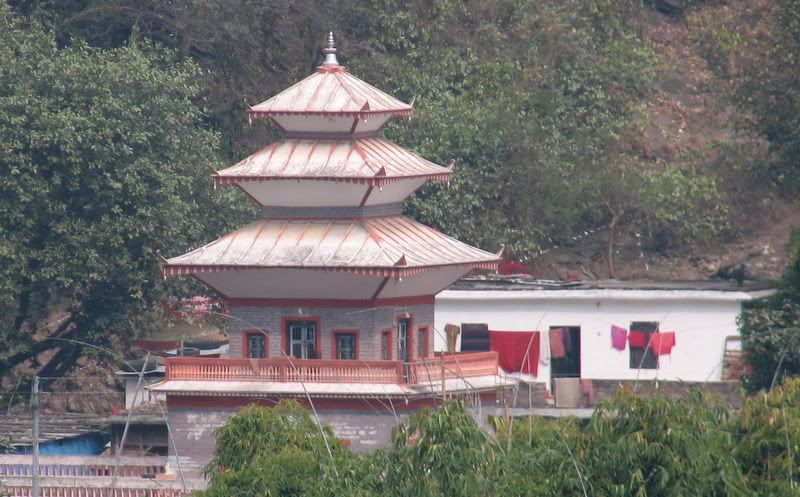 Cleanliness is next to godliness: I think Nepalese villagers understand this better than Indians
Waaling : one of the towns on the way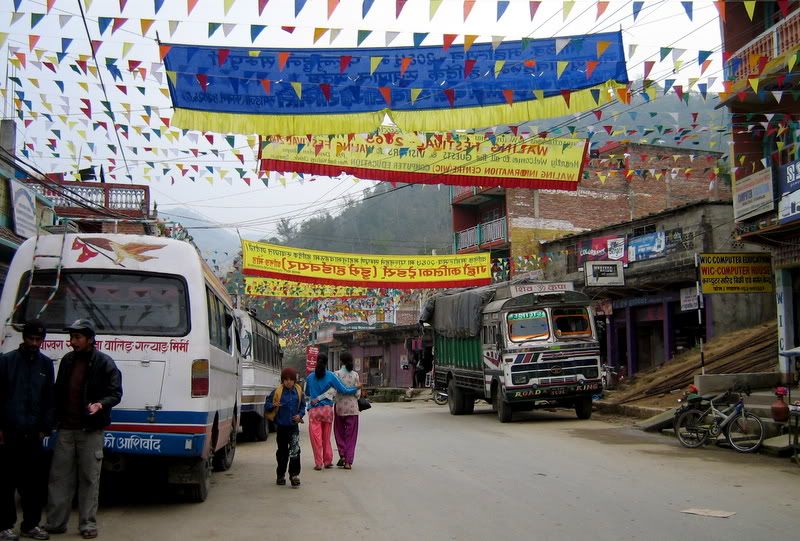 Reached Pokhra in 5 hours from Butwal.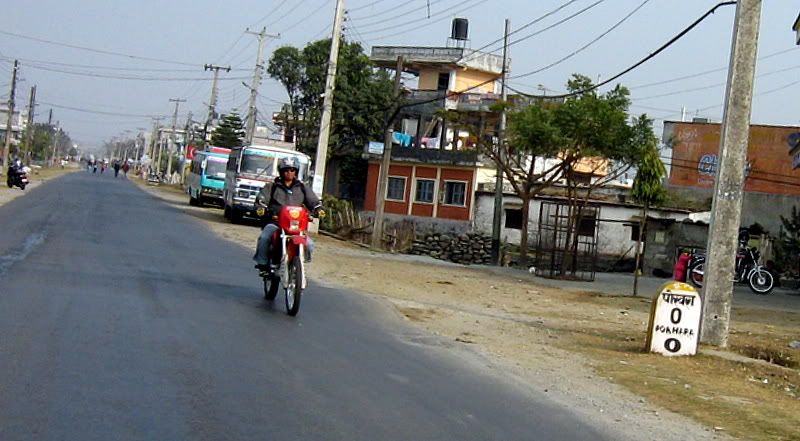 Searched for a hotel near Phewa Lake. Lake side road is just like Mall road in any Indian hill station. This is the most happening place in the town. More foreigners than Nepalese. I was also one of them (Foreigners ;)) so planned to stay at lake side. Got a room at Kiwi guesthouse for Rs 300.
Kiwi guest house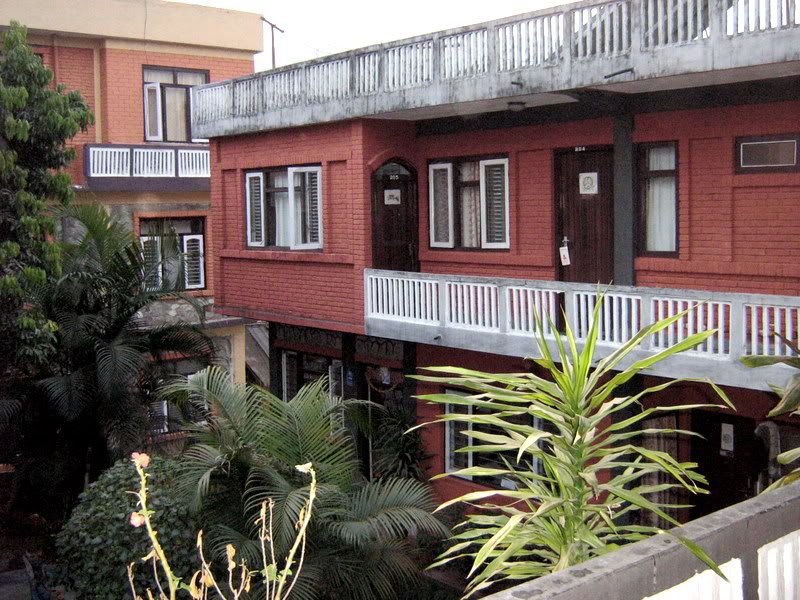 Kiwi guest house
Lake side : most happening place in Pokhra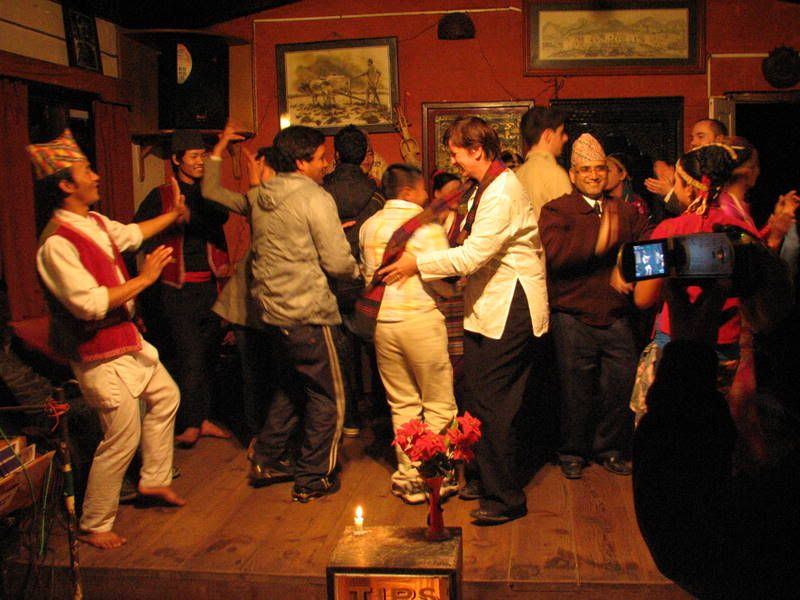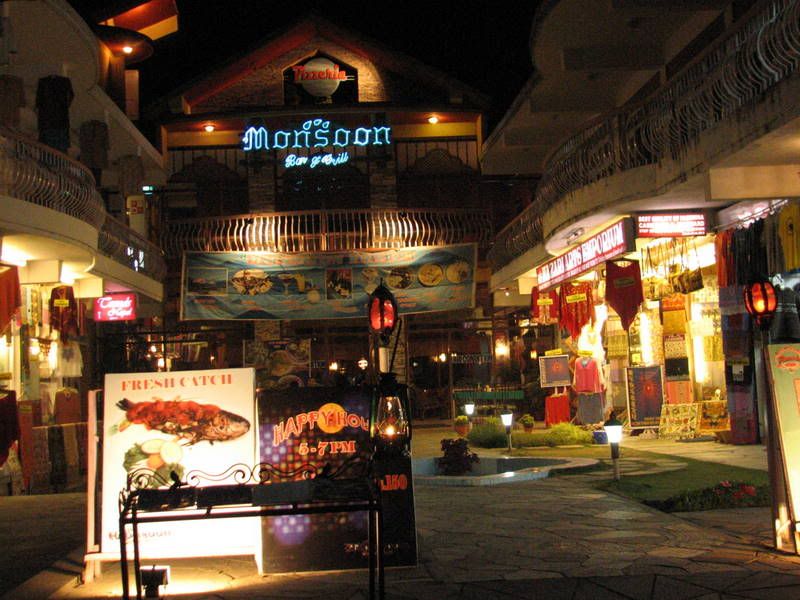 shopping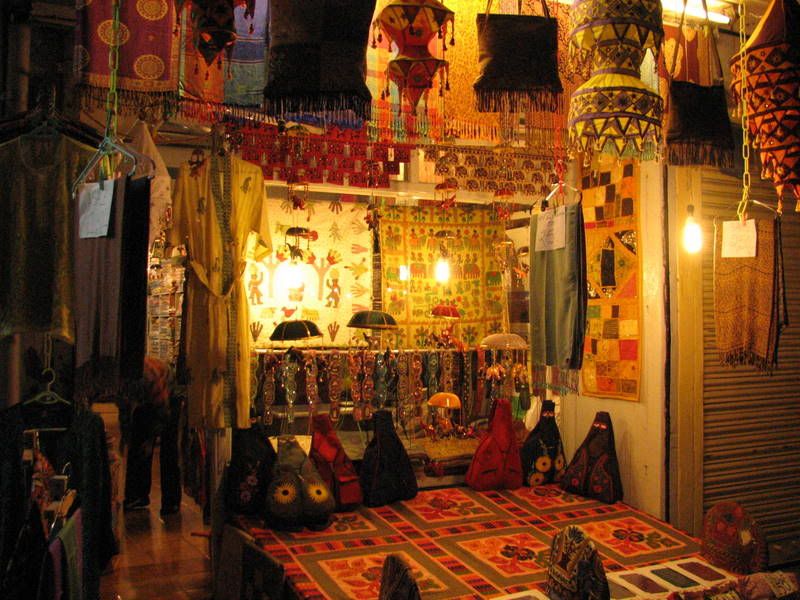 shopping
Standard chartered bank in Pokhra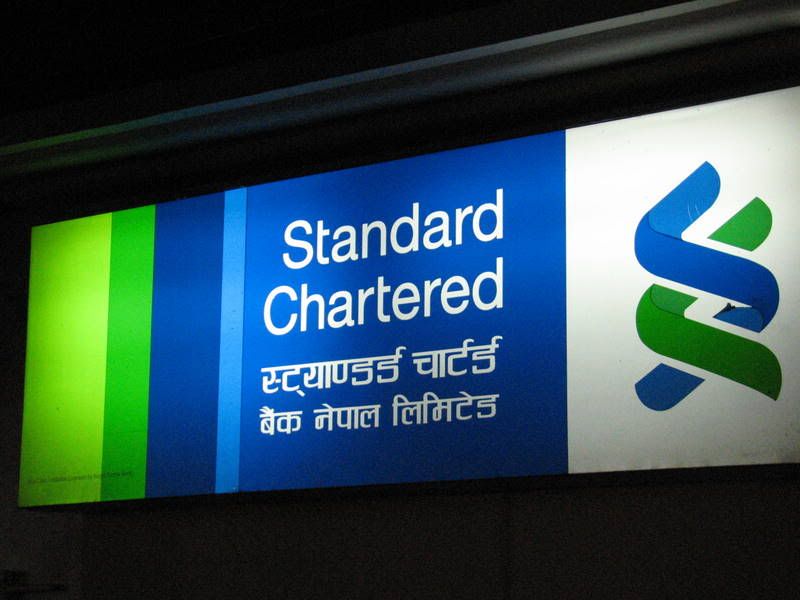 Food
BEWARE - People 'addicted' to Veg and Indian food, Nepal is not for you, unless you have deep pockets and can shell Rs 200 or more for an ordinary Indian (Marwari) thali. Though I am Vegetarian but survived on 'daal-bhaat' as I am not addicted to Rotis.
'Beverages'
I guess you are in paradise.   J
25 JANUARY 2009

To Sarangkot
Got up early at 0430hrs to see Sunrise at Sarangkot view point. It is 15 kms from Pokhra, but due to steep ascent, it took 1 hour ride to reach at the top. However proper parking space is before the top, from where tourists trek for 20-30 minutes.
I continued riding on a rough stretch to reach closer to the mountain top. Although at times the ascent was very steep, especially at few turns, but riding here is not at all a big challenge for Sach pass tamers. ;)
at Sarangkot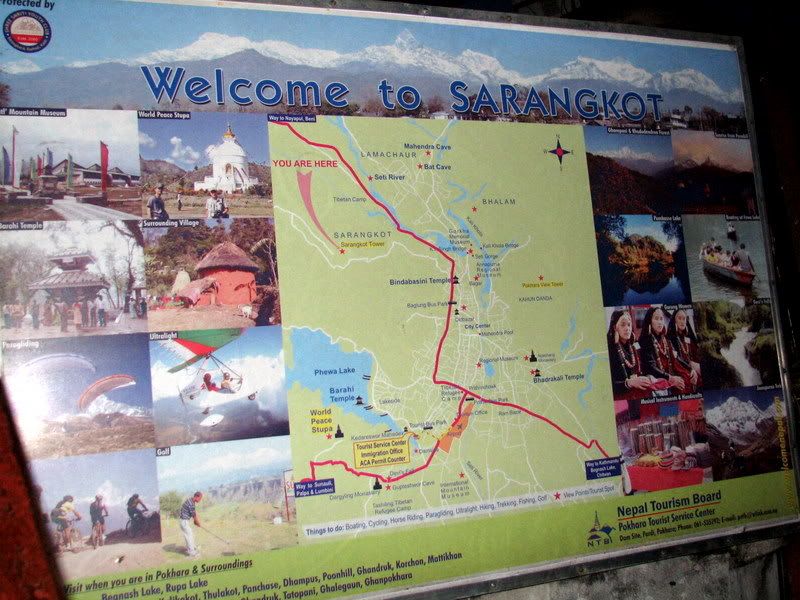 peaks visible from this view point (conditions apply - unless the day is clear)
view point : people waiting for the sunrise
Unfortunately day was hazy : some tourists left, some started clicking what ever they liked there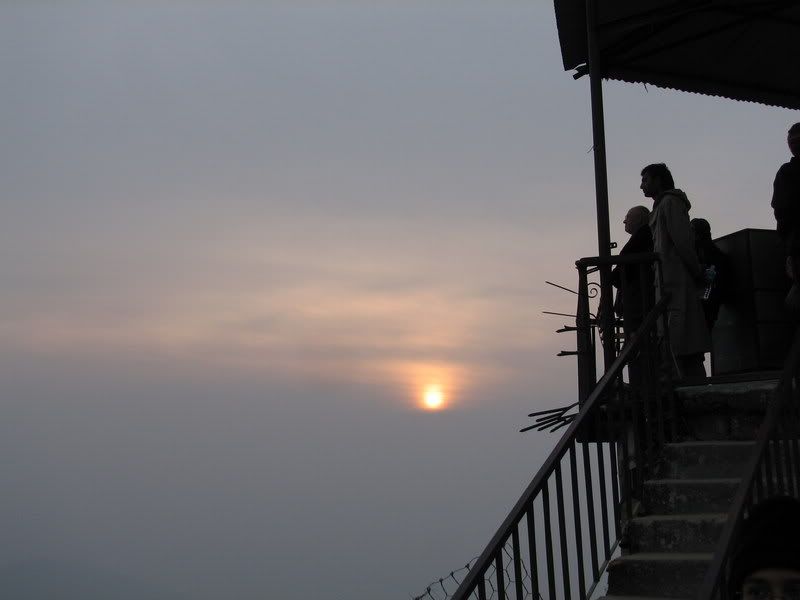 I liked this ;)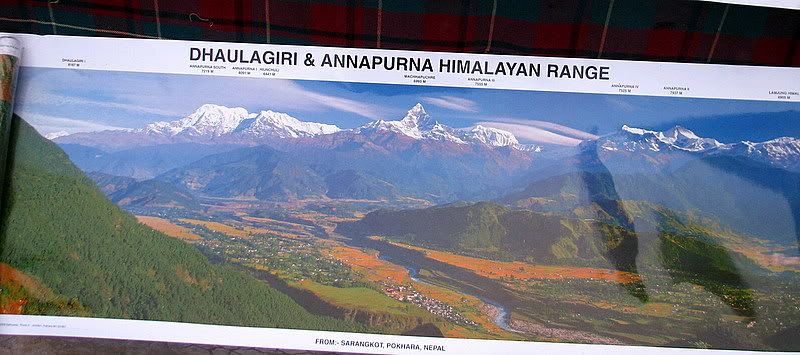 this was the easiest part of the rough stretch there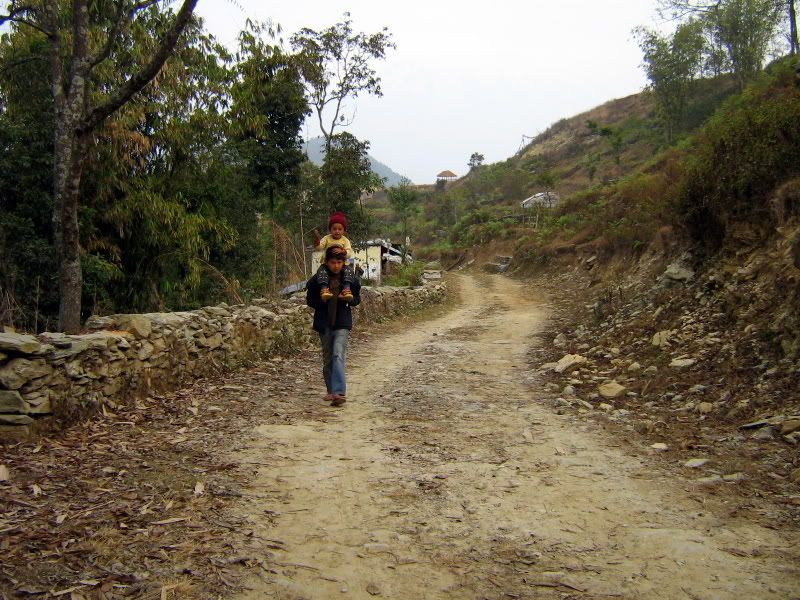 Annapurna Himalayan range
One can see a beautiful sunrise and Mt. Annapurna & other famous peaks from Sarangkot. But many of us were not fortunate that day due to haze. I kept on waiting for 1 hour, but all in vain. Left Sarangkot at 0730 and reached back to the hotel.
Lake side, Pokhra : at morning 
Pokhra to Delhi 
Another route, more challenges
I was now 1000 kms from Delhi. Here starts the return journey for Delhi. Took a detour at the outskirts of Pokhra for a short visit to another mountain top, another view point for Annapurna, another worth visting place – Vishwa shanti stupa.
road to Vishwa shanti stupa is some thing like this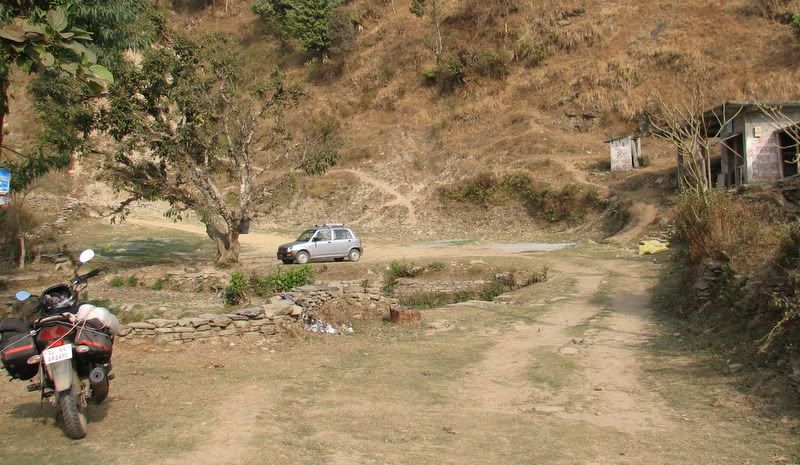 Shanti stupa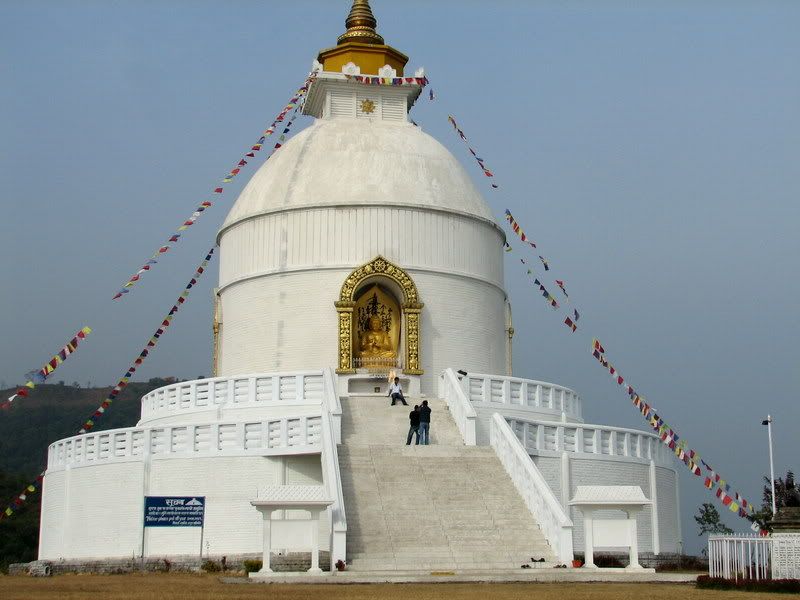 good place to click Phewa lake with Annapurna peak at the backdrop (but as I said conditions apply ;))

Met few bikers from Mumbai on the way. One of them was Navneet who is also a BCMtourer. This was the first & the last time I saw Indian registered vehicles in Nepal during my ride. 
vistas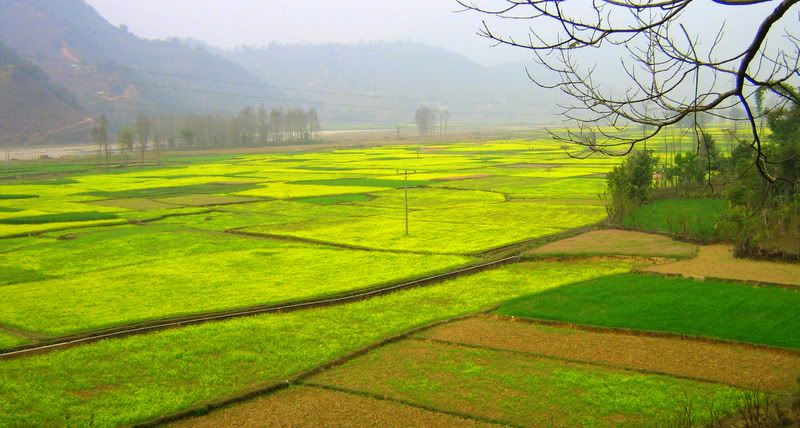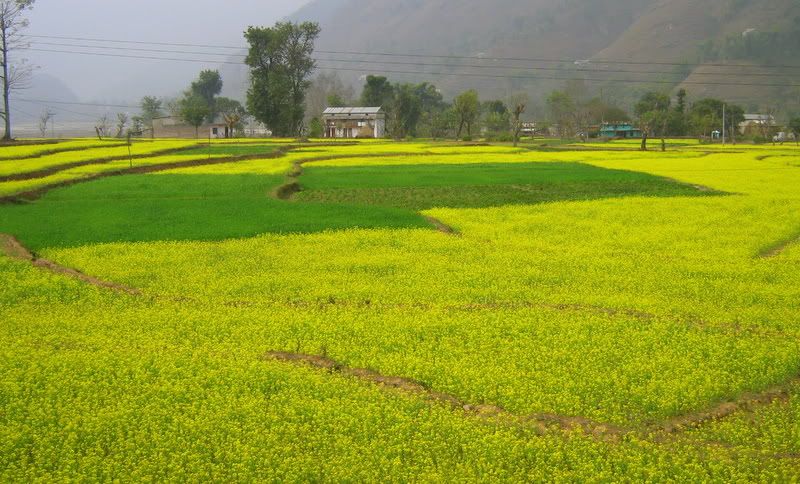 "LAAL SALAAM" :)
Reached back to Butwal where I wanted to exchange left NC to IC.

First and last bad experience in Nepal

I was left with Rs. 650 NC. Banks were closed till the time I reached Butwal. I had to cross the border by evening as I had bike's permission till today. So rather wasting time in searching private money exchangers and paying them exchange fees, I went to a petrol pump to get the tank full. The person calculated the quantity of petrol for the amount. It was 7 liters approx. He rotated the meter manually to 7. Then he started pouring in, but just after 2-3 seconds he said  -- 'Ho gaya'. I was shocked!!
After that I struggled for next 1 hour with the petrol pump owner, his worekers, even called up police. But that ghatiya police wala 'ordered' me to pay and leave. I had no other option left. Already a huge crowd was gathered. I was really disappointed by the police man. People said he was an Inspector, but not even had a name plate. I left and approached Districts police officer's office just to convey the happening to the senior officials which was on the way. Unfortunately all the senior officers had left for the day. Time was 1730 (Nepal standard time).
:(
Reached Sunouli border at 1800hrs. Felt pretty happy to be back in 'apna desh'. Night stay at Nautanwa - a small town near the border.
26 JANUARY 2009

Border to Delhi
Started at 0530hrs. Delhi 900 kms away. This target became Herculean due to the dense fog and pathetic highways of UP. However, it was achieved after 23 hours of continuous riding.
dense fog was for almost whole day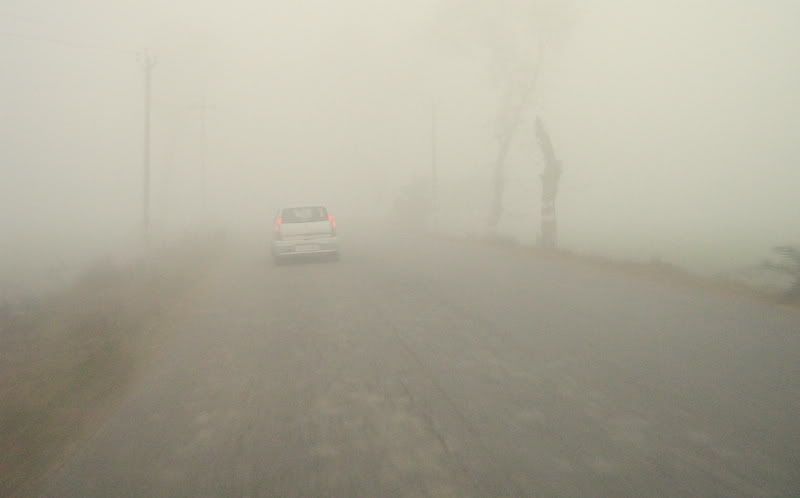 UP highways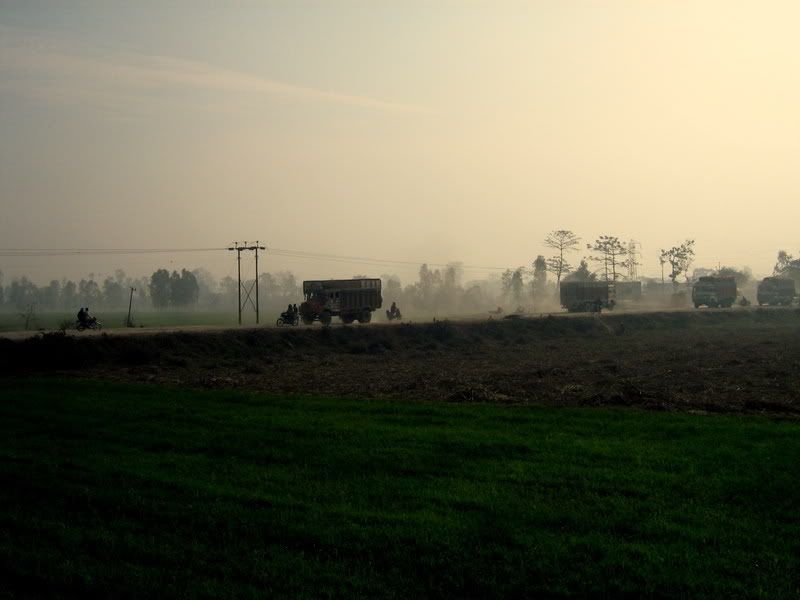 route map from Nepal (Sunouli) Border to Delhi
Back home at 0400 hrs 27 JANUARY 2009      
TOTAL DAYS - 6 
TOTAL DISTANCE TRAVELLED - 2100 (approx)        
MAX distance covered in a day - 26 jan - (900 kms in 23 hours)